FlixU is offering digital content, which will be available on TV streaming devices, such as the TV dongle for a minimum monthly fee of $5-10. Customers who buy the dongle and subscribe to the content will get a minimum of 20 movie channels, music channels, concerts , kids and more. For additional charges, the customer can get more channels and basically compose a whole cable substitute for a fraction of the price of regular cable TV.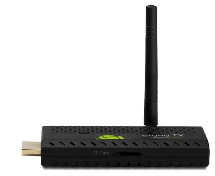 FlixU will supply the following for the TV dongle: 20 basic Channels of movies, music concerts, music bios, music clips, comedy and kids. In addition, there will be an option to add up to 500 misc. channels (within the first 6 months) to the box, so that the customer can form their own TV cable channels for a significantly lower price compared to the price of cable TV.
Profits
Subscription to 20 basic channels at $10 x 12=$120 a year
Subscription to additional channels (of the 500) at $20 x 12=$240 per year
Purchase of advertising spots
Purchase of "product of the month" or "product of the day" can bring $250 per year
Purchase of fashion items from the fashion channel can bring $100 per year
The estimation of profit to be made from the grand total possibilities from each customer per year is $900.
For further information:
For more details about purchasing our digital content via TV dongles, contact us.